Hey Caterwall fans!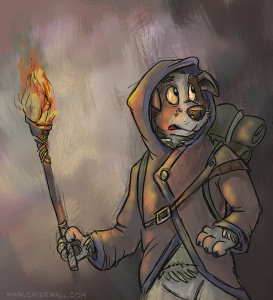 If you haven't picked up the first book of Caterwall, go get it! It's for sale at Sofawolf Press' website in soft cover and hard cover varieties!
Now, for those have read Caterwall and are itching for more, worry not! Book II, Caterwall: The Aodh Mountains, is coming soon! It's currently being worked on and has a hopeful release of 2016.
Keep an eye out here and on our Twitter, @Caterwall for updates on the second book! For now, enjoy an early concept sketch of Finn's new outfit!
Until next time!